Summer Consultants Announces New Shareholders
By Suzy Schuck
2022-10-31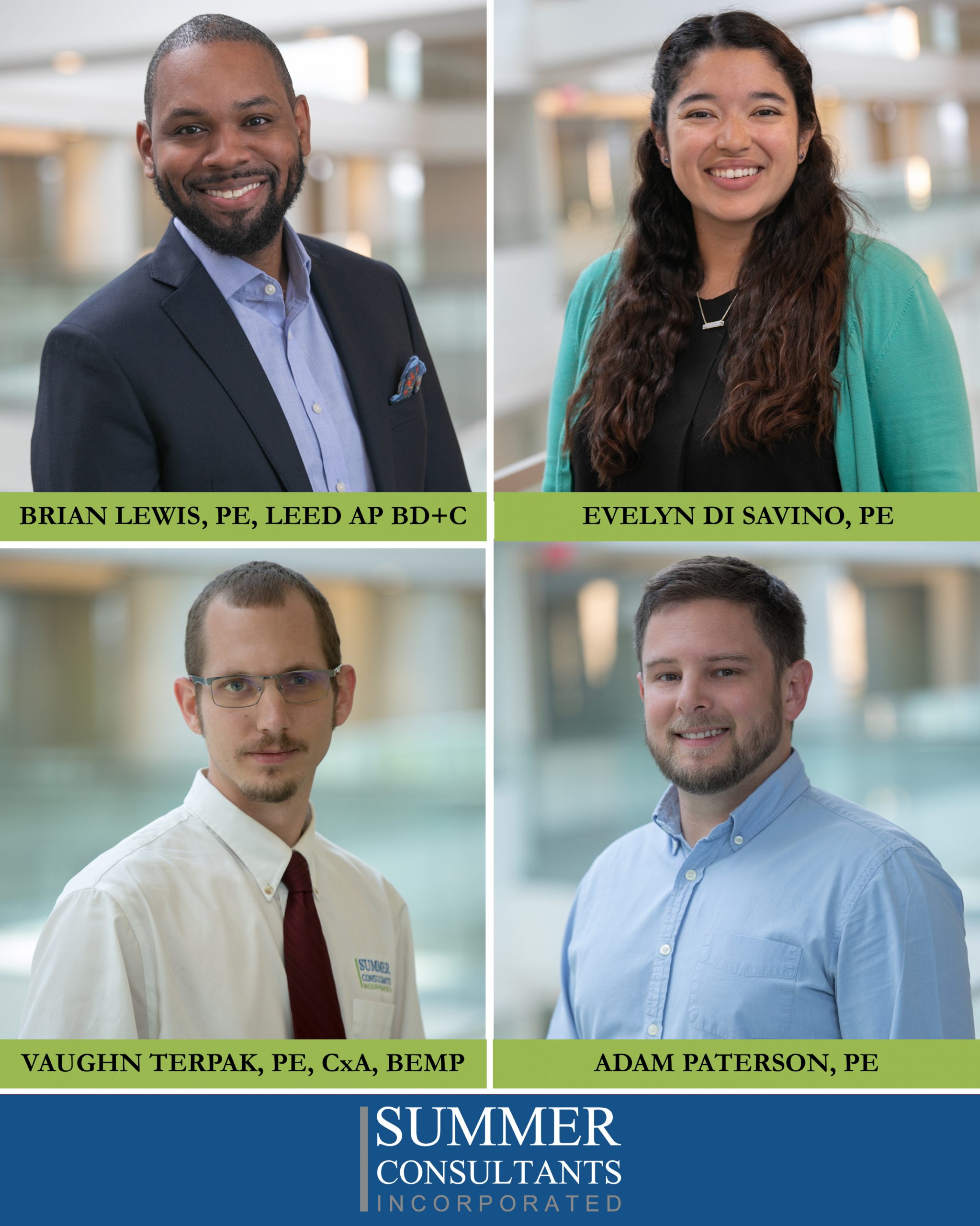 Summer Consultants, Inc. is pleased to announce the addition of four new shareholders to the firm's ownership:
Evelyn Di Savino, PE – Electrical Engineer
Brian Lewis, PE, LEED AP BD+C – Senior Electrical Engineer
Adam Paterson, PE – Senior Fire Protection Engineer
Vaughn Terpak, PE, CxA, BEMP – Senior Mechanical Engineer
"We are fortunate to have these four talented engineers who have demonstrated their expertise in their fields, commitment to our clients, and dedication to the firm," stated James Hoffman, PE, LEED AP O+M, CEM, President of Summer Consultants. "We are proud to welcome them as shareholders and members of the ownership team."
Evelyn Di Savino began her career with the firm and has been providing electrical engineering design services for nearly 10 years. She is a licensed electrical engineer with experience in the deign of low and medium voltage electrical distribution systems, lighting and lighting control systems, and emergency back-up power systems. She is skilled in the completion of short circuit assessments, coordination studies, and arc flash analyses.
Brian Lewis is a senior electrical engineer with over 15 years of experience in our Newark, DE, regional office. His work includes the design of medium and low voltage interior and exterior electrical distribution systems, lighting, lightning protection, emergency power systems. He is also a LEED Accredited Professional.
Adam Paterson leads our fire protection engineering practice with over 16 years of experience. He is skilled in the design of fire suppression systems including wet-pipe and dry-pipe sprinkler, clean agent, and deluge systems and fire alarm systems including mass notification. He is also proficient in life safety assessments and studies in compliance with NFPA 101 Life Safety Code as well as local and national building codes.
Vaughn Terpak joined Summer Consultants upon graduation, providing mechanical engineering design services for over 13 years. His work includes the design of all HVAC systems including chilled water, heating water, and air distribution systems, steam, and building management control systems. He is also a certified Commissioning Authority and a certified Building Energy Modeling Professional.
About Summer Consultants, Inc.
Summer Consultants, Inc. is a small business specializing in the provision of mechanical, electrical, plumbing, and fire protection engineering and commissioning services for the renovation and new construction of federal, higher educational, laboratory, and historic facilities. Headquartered in McLean, VA, the firm also includes regional offices in Greenbelt, MD; Norfolk, VA; Philadelphia, PA, and Raleigh, NC. Clients include the General Services Administration, U.S. Navy, U.S. Army Corps of Engineers, National Institutes of Standards and Technology, and the National Institutes of Health.
Categories: