Summer Consultants Promotes Five Company Leaders
By Suzy Schuck
2022-10-03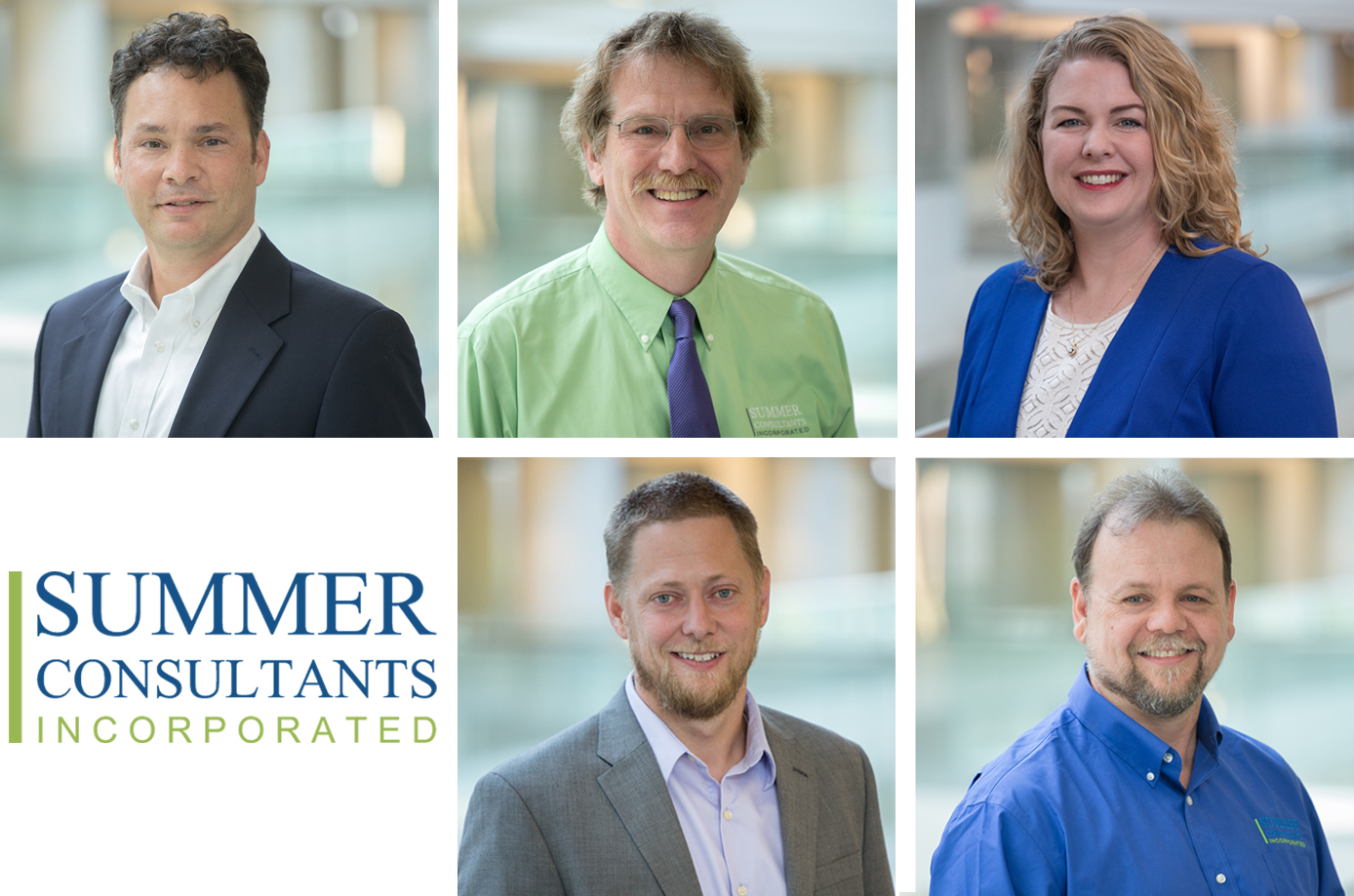 Summer Consultants, Inc. announces the promotion of five Company leaders, effective immediately:
George "Chip" Anastasi, PE, LEED AP BD+C, promotion to Senior Vice President
Peter Collat, PE, CxA, promotion to Vice President
Samuel Statz, PE, RCDD, promotion to Vice President and Treasurer
Anne C. Juran, PE, LEED AP BD+C, CxA, promotion to Vice President and Corporate Secretary
James Stewart, PE, LC, CLEP, promotion to Principal
"Each of these individuals has had a significant role in the growth and leadership of our firm, including expansion in new markets, Covid-19 response, and staff management," stated James Hoffman, PE, LEED AP O+M, CEM, President of Summer Consultants. "They are committed to excellence and exceeding expectations. I am confident their expertise and leadership will be instrumental in continuing to advance the company forward, and I am excited for our future."
Chip Anastasi has 30 years of mechanical engineering design experience. He joined Summer Consultants in 1999, and increased his role and responsibilities over the past 23 years, recently serving as Vice President. He is a senior engineer and project manager, overseeing the execution of multi-year term contracts and complex renovation design projects. He is also involved in the day to day operations of the firm.
Pete Collat began his engineering career with Summer Consultants in 1987. A licensed mechanical, electrical, and fire protection engineer, Pete leads a variety of engineering design teams and conducts comprehensive quality control reviews of numerous projects. He also strives to serve as a technical resource and mentor for new engineers across all disciplines.
Sam Statz joined Summer Consultants in 2001, providing electrical engineering design services for nearly 22 years. Sam is an electrical engineering leader, serving as a senior engineer and project manager and working to build the firm's presence in the electrical power sector.
Anne Juran has 21 years of mechanical engineering experience and has been with Summer Consultants since 2001. Anne leads mechanical design projects as a senior engineer and project manager, with a focus on laboratory systems design. She also leads the commissioning studio and serves as the director of marketing, working to build Summer Consultants' brand identity.
James Stewart joined the firm in 1988, serving as a senior engineer and project manager for electrical design projects for nearly 35 years. Jimmy is an electrical engineering leader and will continue leading design teams as well as serve as a technical advisor, sharing his extensive electrical engineering skill and expertise with staff.
The promotions are part of a reorganization of Summer Consultants' corporate officers. W. Alan Nance stepped down from his role as Vice President and continues to provide technical expertise and leadership in his new role as Principal. Similarly, Jason Davis stepped down from his role as Corporate Secretary, while maintaining his role as Principal and overseeing Summer Consultants' quality control program.
"We appreciate and thank both Al and Jason for their contributions as corporate officers over the years," said Hoffman. "We look forward to them continuing to share their knowledge and experience with our engineering staff."
 About Summer Consultants, Inc.
Summer Consultants, Inc. is a small business specializing in the provision of mechanical, electrical, plumbing, and fire protection engineering and commissioning services for the renovation and new construction of federal, higher educational, laboratory, and historic facilities. Headquartered in McLean, VA, the firm also includes regional offices in Greenbelt, MD; Norfolk, VA; Philadelphia, PA, and Raleigh, NC. Clients include the General Services Administration, U.S. Navy, U.S. Army Corps of Engineers, National Institutes of Standards and Technology, and the National Institutes of Health.
Categories: